Jerron Herman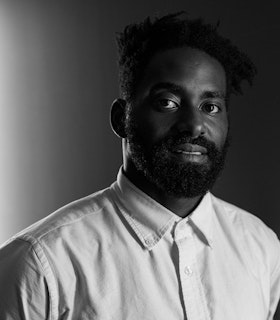 The unparalleled gift of this unrestricted award was an encouragement one can only dream of. As a young artist, I now have measurable confidence in my skills. This isn't only because I have more money in my bank account, but because I can reflect on my work having a certain concrete impact. It has also given me a cohort of peers that I already treasure. I feel the spirit of the award continues just as strongly as when it was founded. I am honored to be counted among the artists named.
- Jerron Herman, December 20, 2021
Biography
Jerron Herman is a dancer and writer who is compelled to create images of freedom. His process is supported by personal histories and social legacies of disability aesthetics that undermine notions of production in favor of welcoming—an ethos stemming from an early childhood desire to create many worlds for others to inhabit. His work is driven by curiosity and grounded in his training and his body.
Herman began his dance training in 2012 when he was discovered by Heidi Latsky Dance after moving to New York to pursue playwriting. Herman's work PHYS ED (2018) explores the social rites of physical education through the revisionist lens of a disabled body executing those rites differently, but with aptitude and delight. PHYS ED premiered at Gibney Agnes Varis Performing Arts Center. Herman's Many Ways to Raise a Fist (2019) examines the legacies of protest against analogous vignettes cast in either "handicap blue" or unfettered sky. Commissioned by the Whitney Museum of American Art in honor of the 29th Anniversary of the Americans with Disabilities Act, it upheld liminal space. Herman's uses of quasi-lecture, keening, and joyous abstraction reveal how varied a response to activism might be.
Relative (2019), which premiered at Performance Space New York for the disabled-led three-day festival I wanna be with you everywhere, revises the inaccessible club, designing a free space to hoot, holler, and dissolve the proscenium. Herman's Relative theatricalizes "crip time" as a function of being that prioritizes wholeness and presence. In 2019, Herman also received a Foundation for Contemporary Arts Emergency Grant for Breaking and Entering, a collaboration with musician Molly Joyce which explored parallels in their experiences with congenital and acquired immobility. The work was commissioned by Danspace Project and excerpted at The Kennedy Center.
Since 2017, Herman has served on the Board of Trustees at Dance/USA, where he is the Vice-Chair. He has been a Selection Committee member for the New York Dance and Performance Arts "Bessie" Awards. Herman was a finalist for the inaugural Apothetae and Lark Playwriting Fellowship in 2017. He curated the series Access Check: Mapping Accessibility 2.0 for the Shelley & Donald Rubin Foundation (2019-2020) and was named a 2020 Disability Futures Fellow by the Ford Foundation and The Andrew W. Mellon Foundation.
Herman has guest lectured at The New School, New York University, and Harvard University. He was a visiting choreographer for the Student Company of The School at the Mark Morris Dance Center and writes extensively on art and culture. Herman studied Playwriting at New York University's Tisch School of The Arts and received a B.A. from The King's College.
Artist Statement
I do not believe anything should be discarded. Rather, as I attend to the minutiae of my finger spasms or the fluid arch of my back, so would I focus on the usefulness of other contexts. This is abundance. So, socially and personally understood definitions intrigue me as the loci from which we glean our importance and value. I want to reveal the dimensions of our artifacts; to cite them, to inhabit them. It's been a lifelong practice. Whether on the playground, or in physical therapy, or onstage, I cultivated a desire to withstand uneducated labels, lazy labels. My art strives to relieve us of those burdens that keep us from fully extending ourselves and reveal the profundity of the body. I do this with abandon and interiority, together. I begin with a word and unravel it in as many ways possible, underscoring the depth of parameters and the elasticity of meaning. We have a multitude of artifact, history, and culture to dissect that I find it pleasurable to look at what we already possess and posit the extent it serves us.
- December 2020