Marjani Forté-Saunders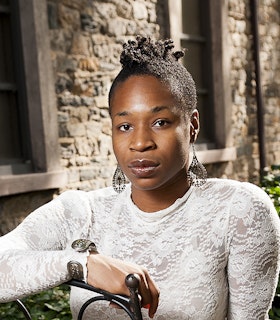 By March, Covid-19 was in full swing… and the only thing keeping us from full economic despair was [the FCA] fellowship. We began converting and constructing spaces that would serve as incubators for our art-making. This would enable our #SatelliteResidency…
While we were building our studios, screening a film, and incubating Prophet, we realized that we were among a bounty of artists, who were also figuring out ways to work (#artistsarealchemists). Our satellite residency was a nomenclature, for a new alternative way of working, for our forever-changed climate. So our #SatelliteResidency emerged as a pilot program for our platform ART & POWER, our means of not only growing our work, but of growing and illuminating our global community of artists. The platform Art & Power is envisioned as a multi-tiered dedication to Black purpose & Innovation, engaging artists as innovative critical thinkers.
- Marjani Forté-Saunders, January 30, 2021
Biography
Marjani Forté-Saunders is a choreographer, performer, educator, community organizer, and mother. She refers to dance and embodiment as her sorcery—revolutionary, transformative, wild, ancient, and fresh. Her practice is informed by years in anti-racist organizer training and as a lead facilitator with Urban Bush Women's (UBW) Builders, Organizers and Leaders through Dance.
She is anchored in a steady collaboration with partner and composer Everett Asis Saunders. Working together as 7NMS, their project A Prophet's Tale has been awarded residencies at Bard College (2019), Baryshnikov Arts Center (2019), Petronio Residency Center (2019), and The Yard (2020). The two are founding directors of ART & POWER, established in 2018, an emerging platform for artists, writers, scientists, spiritualists, and scholars mobilizing regional and international communities through the transformative power of art, philosophy, spirituality, and practice.
Spurring from stories of her father's life, Forté-Saunders's Memoirs of a…Unicorn wove performance, sound, visual art, and media to embody tales of spiritual exploration, love, and metaphysical warriorship. The work relished in the celestial and infinite journeys of those building legacies within the spectrums of blackness, maleness, and womb-hood. The work was supported by a Foundation for Contemporary Arts Emergency Grant and received two New York Dance and Performance "Bessie" Awards, one for Outstanding Production, and the other for Outstanding Visual Design (2018). In 2012, she debuted the FCA supported work Here… at Danspace Project.
As part of the ensemble Skeleton Architecture, Forte-Saunders received a "Bessie" for Outstanding Performer (2017). She is the recipient of the UBW Choreographic Center Fellowship (2017), a Jerome Foundation, Jerome Hill Artist Fellowship (2018), a Dance/USA Artist Fellowship (2019), and is a two-time Princess Grace Award winner. In 2018, she was an Artist-in-Residence at the University of Southern California Glorya Kaufman School of Dance. Her work has been incubated in residencies at 651 ARTS, Brooklyn Arts Exchange, the Lower Manhattan Cultural Council, the Maggie Allesee National Center for Choreography, and Movement Research.
As a performer, Forté-Saunders was a touring artist for five years with UBW. She received her B.A. from Loyola Marymount University, and has served as a visiting Lecturer at Bard College, Princeton University, and Yale University.
Artist Statement
I am a student. I study the occurrence of magic and the ineffable cycles and co-occurrence of past, present, and future in all things, beings, and ideas. I believe the infinite formulas for our elevation (of the human consciousness) are within our capacities to be both independent and deeply interconnected. My tools have been choreography, performance, teaching, and cultural creative community organizing. It wasn't until I joined Urban Bush Women that I discovered how interwoven my roles/life would have to be. It would never suffice for me to be an artist only. Or perhaps being an artist had a much broader definition for someone like me, coming from a cultural and creative lineage of artists who drew no lines between their creativity and their calling in the movement for liberation and justice.
My work is also committed to shifting dehumanizing narratives and visioning liberation through art through the power of imagination. Posing questions like: What might freedom, a reality that elevates culture, life, wisdom, the intangible and the infinite, look like? Can we achieve it? The grit in my aesthetic is my agency—my child's whisper and command for a more humane, liberated, and compassionate reality.
- December 2019