Robert Grenier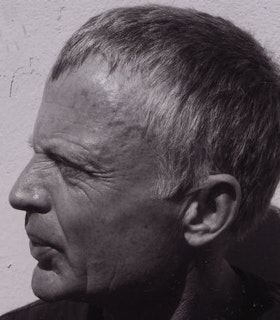 This year's very timely grant from the Foundation for Contemporary Arts has allowed me (in my 72nd year) to keep my head above water financially and go on with my life and work. I am most appreciative for this chance.
- Robert Grenier, December 19, 2013
Biography
Robert Grenier is a text-artist, poet, and editor. His work takes on various forms as he presents poetry on index cards, posters, and other materials. Many of his poems are handwritten, frequently exploring the boundary between writing and drawing. He has published over twelve books of poetry including Series, (1967-1971), Sentences, (500 poems on 5" x 8" index cards) (1978), Oakland, (1980), What I Believe, (1988), OWL/ON/BOU/GH 32 4-color 11" X 17" drawing poems (1997), and 100 Sentences/100 Phrases, (2005). Grenier has edited books including Selected Poems by Robert Creeley, (1976), readiness/enough/depends/on by Larry Eigner, (2000), and The Collected Poems of Larry Eigner by Larry Eigner, (2010). Grenier also served as a translator for Selected Poems: Geog Trakl, 1968. His poems and criticisms have been published in The L=A=N=G=U=A=GE Book, (1984), 21 + 1 American Poets Today, (1986), Out of This World, (1991), and From The Other Side Of The Century: A New American Poetry, 1960-1990, (1994). With Barrett Watten, Grenier cofounded This magazine, which is often cited as the beginning of the Language Writing movement in American literature.
Grenier's visual poetry has been included in group exhibitions at Marianne Boesky Gallery, Reynolds Gallery in Santa Barbara, and Bury Museum and Art Gallery in Lancashire, United Kingdom. A retrospective of his work, Language Objects: Letters in Space, 1970-2013, was shown at Southfirst Gallery in Brooklyn during Grenier's Grant year in 2013.
Prior to his 2013 Grants to Artists, Grenier was the recipient of an Amy Lowell Traveling Scholarship (1966) and grants from the National Endowment for the Arts Fellowships for Creative Writers. He has held teaching positions at the University of California, Berkeley; Tufts University; Franconia College; the New College of California; Mills College; and has given poetry readings, lectures, and presentations at universities and venues across the country. Grenier received his A.B. from Harvard College and his M.F.A. from the University of Iowa.
Artist Statement
My ongoing text-art/color drawing poem project (begun in 1989) exists in a crack between "Literature" and "the Fine Arts" (more properly a crevasse), a somewhat smelly place where minerals & vapours & enthusiasms & bright spirits & direct perception (mostly seeing & hearing) exist solely for the purpose of imagining into existence via the invention of a "True Name" for… some part of what seems actually to be truly happening (& 'important', obscurely) through the physical agency of drawing a letter… after that, another letter(s)… these strange beings combining ("Ideally"!) into word & words (surely also "objects in themselves" which have qualities which render them possibly "interesting-in-themselves" as "objects"/purely visual phenomena?) together that "conspire amongst themselves"/"beyond themselves" to cooperate in the "showing"/coming into existence of what these drawn letters magically say…
Whatever mark can come into existence here Entirely Depends on the capacity of the drawn shapes to cooperate (with perception of what comes into the field of whatever's "given" by this "organization"/ "life" of perception/ "thinking"/ "imagining"/ "feeling"), Feel-Like and volunteer their dream-shapes to Try to write-into-existence (by dint of exceptionally "athletic" drawing into the paper, by virtu of the drawn letters) Something that seems to be obviously/radically different from, but absolutely (somehow) also "Par" of whatever it is it's trying to (salivates) Club only (?)… and does, in fact (in my opinion/experience, on occasion), say…
- December 2012