taisha paggett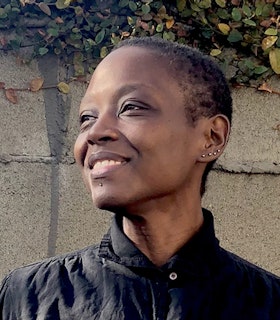 The award afforded me ease and bandwidth to live a little riskier, be a bit more playful, and extend support to others this year… I used a good amount to support another artist colleague who'd fallen into some steep financial turbulence and bolster another collaborator's artist fee when the project budget got too tight. A portion will also go to building a savings account for a young relative whose entry into this world has been an uphill climb. Money does not buy wisdom but it can support building connections and resourcing oneself and one's community. This is what having this award has meant for me. It's also given me permission to say no to invitations that would over-extend my limited bandwidth, create a bit more ease in my schedule, and trust that the work I've dedicated my life to has worth. I feel more grounded in my capacities as an artist, teacher, and friend, and fueled to continue working.
- taisha paggett, December 23, 2019
Artist Statement
I started dancing twenty years ago from what Hortense Spillers calls "a political passion," or to understand society around me as a Black, queer, working class, female-bodied person, growing up in the arid yet ubiquitous racial politics of Central California. Dance, however, proved to be as reflective of that limited purview as it was a site of refuge so, alongside Art History studies, it would become a site of analysis for imagining practices of freedom. Over the years my work has utilized repetition as a conceptual frame to assert 'introverted virtuosity,' or a relationship to space and time that undermines expectations of the Black dancing body as spectacle and property by moving at a pace which seems to stretch time and upset momentum. Other work has centered on living inside trans-historical ontologies to prod notions of neutrality, test perception and the limits of institutional space, and hold vigil for lost land and lives. Other collaborative work has taken pedagogical and relational strategies from dance and rooted them elsewhere to contemplate how we know ourselves as political subjects and in contexts of collectivity. My praxis is indebted to the artists and teachers I've had the honor to work with over the years as well as the dreamers and agitators who've come before me.
- December 2018
Biography
taisha paggett is an interdisciplinary dance artist whose individual and collaborative works re-articulate and collide specific Western choreographic practices with the politics of daily life in order to interrogate fixed notions of Black and queer embodiment, desire, and survival. Such works include the dance company project, WXPT (we are the paper, we are the trees), and the School for the Movement of the Technicolor People, both of which seek to radicalize questions held within contemporary dance by way of intersecting with social practice; experimental pedagogy; somatic and contemplative investigations; queer, feminist and Black studies; performance and visual art; and the political and philosophical meshes of personal history.
As a dancer, paggett has performed, toured with, and made significant creative contributions to many choreographers, artists, and performance projects including Yael Davids, Every House Has a Door, Victoria Marks, Kelly Nipper, David Roussève/REALITY, and Meg Wolfe. paggett also co-instigated the Los Angeles-based dance project and discursive platform itch (2005-13), and maintains an ongoing collaborative practice with Ashley Hunt titled On Movement, Thought and Politics.
their work has been presented at Audain Art Museum, Vancouver, British Columbia, Canada; Commonwealth and Council, Los Angeles; Danspace Project, New York; Defibrillator Performance Art Gallery, Chicago; DiverseWorks, Houston; Hammer Museum, Los Angeles; Institute of Contemporary Art at the University of Pennsylvania, Philadelphia; Los Angeles Contemporary Exhibitions, Los Angeles; The Studio Museum in Harlem, New York; and the Whitney Museum of American Art, New York. paggett has received support from the MAP Fund (in partnership with Los Angeles Contemporary Exhibitions); the National Performance Network; Show Box L.A.; the University of California Institute for Research in the Arts; and they have participated in residences at BAK, basis voor actuele kunst, Utrecht, Netherlands; Headlands Center for the Arts, Sausalito, CA; and the Okanagan Summer Indigenous Art Intensive at the University of British Columbia, Kelowna, British Columbia, Canada.
paggett was featured as one of Velvetpark magazine's 25 most significant queer women of the year in 2014, and in 2017 was one of ten "womyn, and womyn-led community arts organizations" honored with an Avest Award for outstanding contribution to arts in Southern California. paggett received a B.A. in Art History from University of California, Santa Cruz, an M.F.A. from University of California, Los Angeles, and is an Assistant Professor in the Department of Dance at University of California, Riverside.